Our products
Available variants
Beta 1, 3-D glucan 500 mg capsules / 30 capsules per bottle
This 500 mg, 30-capsule bottle is ideal for individuals who need higher doses for maximum immune support.
If you have severe health challenges such as cancer, take two 500 mg capsules per day on an empty stomach, then wait 30 minutes before eating, or follow your healthcare professional's instructions.

Our price

€

33.46



Beta 1, 3-D glucan 500 mg capsules / 60 capsules per bottle
This 500 mg, 60-capsule bottle is ideal for individuals who need higher doses for maximum immune support.
If you have severe health challenges such as cancer, the recommendation is to take two 500 mg capsules per day on an empty stomach, then wait 30 minutes before eating, or follow your healthcare professional's advice.

Our price

€

56.12



Beta – 1,3 D Glucan
Manufactured by

Transfer Point, Inc., Columbia SC 29212, South Carolina, USA
Certificates
---
Available variants
Beta KIDS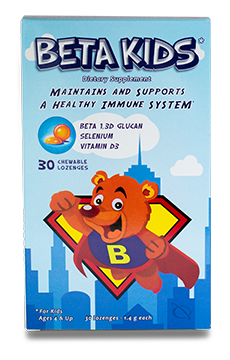 Not available
Weight of content / quantity

42g – 30 chewable lozenges
Beta KIDS – chewable lozenges
Beta KIDS is an immune support for children. The small, delicious fruit-flavored lozenges provide a daily dose of proven immune support with natural ingredients and no added sugar. It is effective and completely safe for prolonged use.
Made with natural ingredients and sweeteners
Contains no artificial coloring or flavoring
Is preservative-free and has no GMOs
Contains no gluten or lactose
Suitable for diabetics
Maintains and supports a healthy immune response
Beta Glucan, a highly purified active polysaccharide, is a clinically proven immune support. Vitamin D and Selenium also support immune fuctions.
Improves tooth mineralization
Xylitol, Sorbitol and Erythritol help improve teeth mineralization in children.
Directions for use:
Children from 4 to 7 years of age: 1 lazengo a day,a half hour befone eating.
Children from 8 to 11 years of age: 2 lozenge a day,a half hour befone eating. If you feel that more immune support is needed, double the dose. For easy dosing for small children, lozenge may be crushed and mixed with a small amount of juice.
| Supplemennt facts | 1 lozenge | % RHP* | 2 lozenge | % RHP* |
| --- | --- | --- | --- | --- |
| Beta Glucan (from Sacharomyces cerevisiae) | 50 mg | | 100 mg | |
| (1,3)-(1,6) -β-D-glucan | 37,5 mg | | 75 mg | |
| Selenium | 15 μg | 27,3 % | 30 μg | 54,5 % |
| Vitamin D3 as cholecalciferol | 10 μg | 200 % | 20 μg | 400 % |
Other Ingredients
Xylitol (Sweetener), Purified water, Sunflowe oil (Bulking agent), Sorbitol (Sweetener), Bovine Gelatin (Gelling agent), Erythritol (Sweetener), Trisodium citrate (Acidity regulator) Malic acid (Antioxidant), Tutti Frutti Natural flavoring (Flavoring) Stevia (Sweetener), Paprika extract (Color), Vegetable oil, (trace Lubrication oil) Medium Chain Triglycerides (Anti-faaming agent).
These atatements have not been evaluated by the Food and Drug Administration. This product is not intendend to diagnose, treat, cure or prevent any disease.
Weight: 42g
Sales package: 30 chewable lozenges
Made for: Transfer Point, Inc., Columbia SC 29212, South Carolina, USA
---
Book - Beta Glucan: Nature's Secret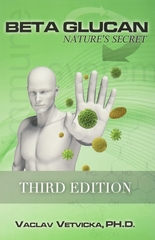 In our e-shop is now available a book - Beta Glucan: Nature's Secret. The book is distributed in English language only. It was published in the United States.
In this book you can learn many interesting facts about the glucan. For example: What beneficial effects glucan has on your body, where glucan comes from and in what is it included, why we should use in and many other useful tips. The book is intended for the general public and also for professionals in fields such as allergology, alternative medicine and many more.
author Prof. Václav Větvička, Ph.D.

The author of the book is Vaclav Vetvicka, Ph.D. - Professor of Pathology at the Department of Pathology at the University of Louisville, Kentucky, USA. He graduated from the Faculty of Natural Sciences of Charles University in Prague. He is the author of more than 190 professional publications, seven books and five international patents.